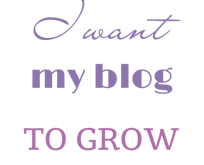 This is Your Love to Blog DIY Levels I, II, III Ebook.
You get 27 DIY Blogging Tutorials-Plus a Bonus Chapter: 11 Ways to Profit from Blogging...
You don't have to hire an expensive web designer or programmer, or take an expensive class. You CAN improve your blogging and blogsite yourself! You just get into your site on your own, and learn very important skills to use throughout your entire career of blogging.
Your Love to Blog DIY Tutorials are designed to walk you through beginner, to intermediate to advanced stages, so that you can continue to grow and improve your work. As you make your way through each tutorial and each level, you can rest assured that you are gaining skills, learning better writing, and can take your blogging to the ultimate level of making money.
Do you love to blog?  You can do it better!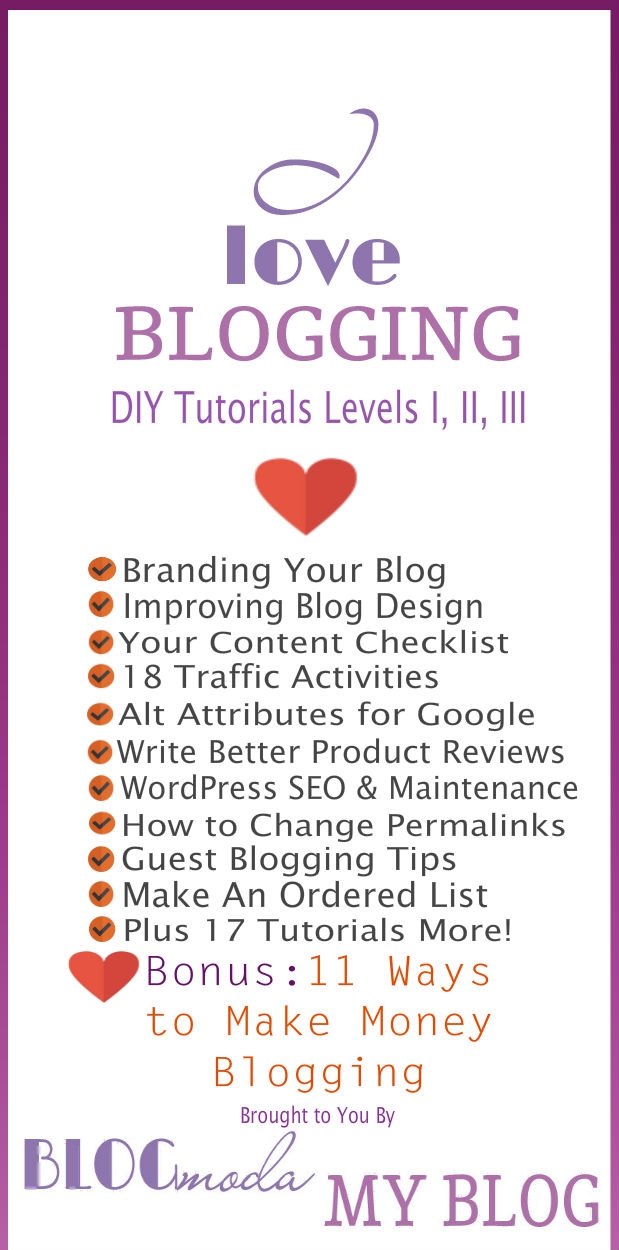 In Your 72 Page eBook, You'll Get 27 Tutorials from DIY Blogging Levels I, II & III:
Level I
-Blog Branding -Homepage Dazzle
-Get Rid of The Clutter -Blog Design Relevancy
-Are Your Design Colors Relevant?
-The Visual Impact -Your Content Checklist
-You Don't Have to Be a Writer
Level II
-Quick Clean Your Posts
-2 SEO Have To's
-Keep it Consistent
-Your Own Domain and Hosting
-How to Make an Image a Link
-How to Center Buttons and Images
-How to Make Borders for Images
-Google Wants Alt Attributes
-How to Resize Buttons
-How to Hyperlink
-18 Traffic Generating Blogging Activities Now
-Want to Write Better Product Reviews?
Level III
-How to Make An Ordered List
-Make a Custom Search Box
-Maximum SEO for WordPress
-Blog Maintenance Routine for WordPress
-How to Guest Blog Right
-A Working Plan for Blog Traffic
-How to Change Your Permalinks
Now your Bonus Chapter to make profits!...
Bonus: 11 Ways to Make Money Blogging
1: Going Local to Make Money
2: The Benefits of an Additional Blog
3: How to Monetize Your Blog
4: Selling Services or Products
5: Affiliate Marketing
6: Article Marketing
7: CPC Networks & Pay Per Click Advertisers
8: Ezine Promotion
9: Build a List
10: Publish a Book
11: Your Coaching Program
Love to Blog DIY 27 Tutorials with 11 Ways to Profit from Blogging is yours for our special price of just $9...
People who bought this item also bought