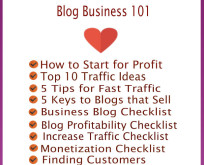 Blog Business 101 EBook--
Helps You with Blogging for a Business from Starting a Blog for Profit to Traffic and Monetization Strategies and Checklists to Even Finding Customers
Blog Business 101 Contents:

*Introduction
*How To Start a Blog for Profit
*Top 10 Traffic Ideas for Your Blog
*5 Quick Tips to Get Website Traffic Fast
*How To Increase Blog Traffic Fast Checklist
*Monetization Website Traffic Checklist
*5 Keys to Creating Blogs and Websites that Sell
*Business Blogging Checklist
*Blog Profitability Checklist
*4 Places to Find Customers Where You Didn't Think
*5 Powerful Mind Success Strategies
*Tips for Creating Powerful Headlines that Sell
Bonus:
*Top Internet Business Ideas
*How To Become a Super Affiliate
*Build Your List and Make Money
*How To Profit from Freebies Checklist
*EBooks: A High Profit, Low Maintenance Business
*Tips for Starting Your Home Based Service Business
*8 Ways to Earn Money with Digital Photography
*How to Sell Your Digital Photography at Stock Photo Sites
Resources Chapter for Further Learning
A blog and business go hand in hand. Why? Because business online is all about words, and you have to use words to reach your customers and clients. What's the easiest way to use words?
A blog.
If you have a business website without a blog, and notice sales are low and traffic is quiet, an active blog will change this. Plus your business blog can make you money on its own.
This is your start to learning what a business blog can do for you, and the checklists will open your eyes to the possibilities and potential you have to grow your business in an easy bullet point formula.
Blogging works for business!
Get on your way to learning business blogging, and making money for our very special price of only $9.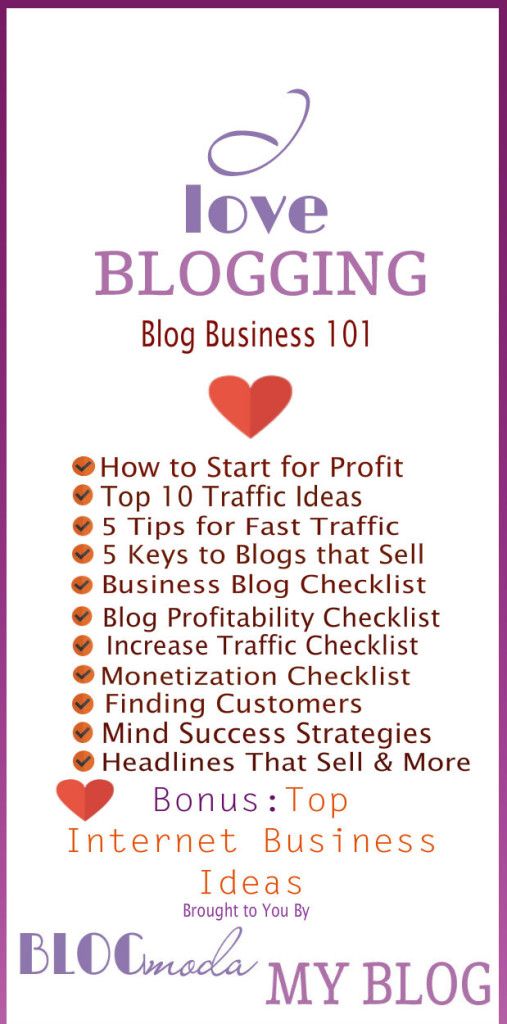 Business Blog 101 EBook...
People who bought this item also bought